Slash and Crash - Smithy/Weapon Shop
Edit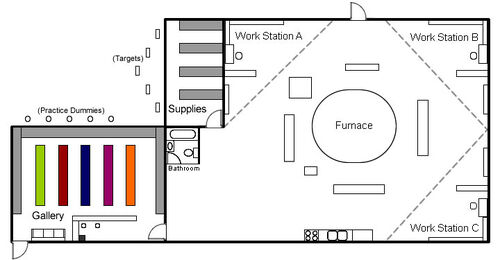 For most of Luceti, the weapons gallery is what most people see. All finished weapons, including New Feather weapons, are kept out here. The gray counters lining the walls are comprised mostly of
West Wall - These are swords, knives, darts, shurikens, and weapons of that nature.
East Wall - 'Junk' weapons that are waiting to be melted down or disposed of.
North Wall - Armor, gauntlets, chainmail, shields, and so on.
Green - These are New Feather weapons, when they're properly sorted out there.
Red - Spears, tridents, and other pole arms.
Blue - Bows, crossbows, and similarly ranged weapons.
Purple - Blunt weapons like nunchaku, staffs, clubs, and staves.
Orange - Misc. weapons that don't fit above
The counter (along the south wall) is where firearms are kept, under glass. It's not difficult to get around and access them if no one happens to be manning the area. Ammunition is kept locked in the safe (though only if the smithy staff locate it first.)
Presently, all finished weapons, except junk weapons and New Feather weapons, are kept locked behind bars.
The couch beside the entrance is for anyone to use. Smithy workers may sometimes be found passed out on it.
Although not as extensive or useful as the barracks, a few targets and practice dummies can be found behind the gallery. These are replaced infrequently, so don't break them too much!
Commissions
Edit
Often the workers will take commissions for weapons, armor, accessories, jewelry or simple mechanical devices. Some of them will do it for free, others may ask for something in return.
Their specialties are:
Raven: Accessories, magic-affecting ornaments, jewelry
Leon: Elemental weaponsmithing
Asami: Mechanical Weaponry. Specializing in electrical weapons.
Getting a commission with one of these characters is as simple as talking to one of them. If you have something you want to make sure doesn't get missed, your best bet is to hit up their individual appointments post. 
Where the magic happens! The supplies closet is locked and this is where various metal ores and other materials are kept to be used. (But the workers aren't stingy, so they'll usually just let people grab stuff if they need it.) There's a bathroom, you know, just in case they need it.
The smithy itself is large and pretty open, though it's usually cluttered with different projects and other junk that hasn't been sorted. In three of the corners are the different work stations. These are sometimes shared, depending on how large the current staff is.
In the center is the furnace area. Surrounding it is different work benches and tables, as well as modern machinery for various types of crafting.
Current Staff
Edit
Full Timers - Raven, Asami
Part Timers - Leon